Know the Worth of Your APIs
It is no longer a myth that APIs play an integral part in the growth of a business. But, still, many companies and developers underestimate the value of their APIs. Let's explore how APIs can generate revenue, improve business efficiency, and drive innovation so you can better leverage their value. We'll also discuss how to measure the worth of your APIs and strategies for monetizing them.
By understanding the true value of your APIs, we hope you can make informed decisions about using them to drive growth and success for your business.
APIs Can Generate Revenue
There are many ways APIs can be utilized to make money. Below are some commonly used strategies but by no means an exhaustive list.
Monetization Through Usage: companies can charge customers based on usage, such as a certain number of monthly API calls or a subscription fee.
Monetization Through Access: companies can restrict access to certain features or data in an API and charge a premium for access.
Monetization Through Value-Added Services: companies can provide additional services, such as analytics or support, and charge for them.
Monetization Through Data: companies can use their APIs to collect and sell data to other companies.
Monetization Through Partners: companies can partner with other companies to sell access to their APIs.
APIs Lower Expenses By Improving Business Efficiency
APIs are a great revenue generator but also can help improve business efficiency in several ways to reduce costs.
Reduce Integration Costs: APIs improve communication between different systems and departments, reducing the need for manual integration and increasing interoperability.
Automating Processes: APIs automate repetitive tasks, such as data collection, by allowing different systems to communicate and exchange information.
Streamlining Data Access: APIs provide a standardized way to access data, making it easier for developers to access the necessary information.
Enhancing Customer Service: APIs allow companies to build custom integrations with their systems, improving the customer experience and increasing loyalty.
Reducing Operation Costs: APIs reduce costs by automating processes, reducing the need for manual labor, and minimizing errors and delays.
Enhanced Security: APIs can help apply a zero-trust security layer, ensuring suitable access to the data per user.
APIs Are Driving Innovation
APIs are driving innovation like never before, giving organizations elevated opportunities for advancement.
Enabling New Business Models: allows companies to create new business models, such as subscription-based services or pay-per-use pricing, which can drive innovation and growth.
Facilitating Experimentation: makes it easier for developers to experiment and test new ideas, which can lead to new products or features.
Encouraging Collaboration: makes it easier for different companies and developers to work together, fostering innovation and creating new opportunities.
Enabling Third-Party Innovation: allows third-party developers to build new applications and services on top of existing platforms, driving innovation and creating new revenue streams.
Allowing for Rapid Prototyping & Development: enables fast and efficient development of new applications and services, reducing development time and costs.
Monetizing Strategies to Consider
Several API monetization models have proven to work better than others:
Subscription-Based Model: charge customers a recurring fee for access to your API, such as a monthly or annual subscription.
Pay-Per-Sse Model: charge customers based on usage, such as a certain number of monthly API calls or a transaction fee.
Freemium Model: offer a free limited version of your API, and charge for access to premium features or data.
Partner Model: partner with other companies to sell access to your API, such as white-labeling or co-branding.
Data-As-A-Service Model: offer access to data collected through your API for a fee, such as providing analytics or market research.
Value-Added-Services Model: offer additional services such as support, training, or consultancy for your API. These services can be offered separately or as a package.
Measuring the Worth of Your APIs
There are several ways to measure the worth of your APIs:
Usage Metrics: track the number of API calls and the number of active users to determine the level of adoption and usage of your API.
Revenue Metrics: track your API's revenue, such as subscription fees or pay-per-use charges, to determine its monetary value.
Business Impact Metrics: measure the impact of your API on business processes, such as automation and efficiency, to determine its value in terms of cost savings and productivity improvements.
Customer Satisfaction Metrics: track customer satisfaction and feedback to determine the value of your API in terms of customer experience and loyalty.
Innovation Metrics: measure the number of new products, features, or business models developed using your API, as well as the number of third-party applications built on top of it to determine the level of innovation it has driven.
If you're looking for a tool to help track the true worth of your APIs, take a look at one of Interactor's partners - Moesif. They have a free version to get you started!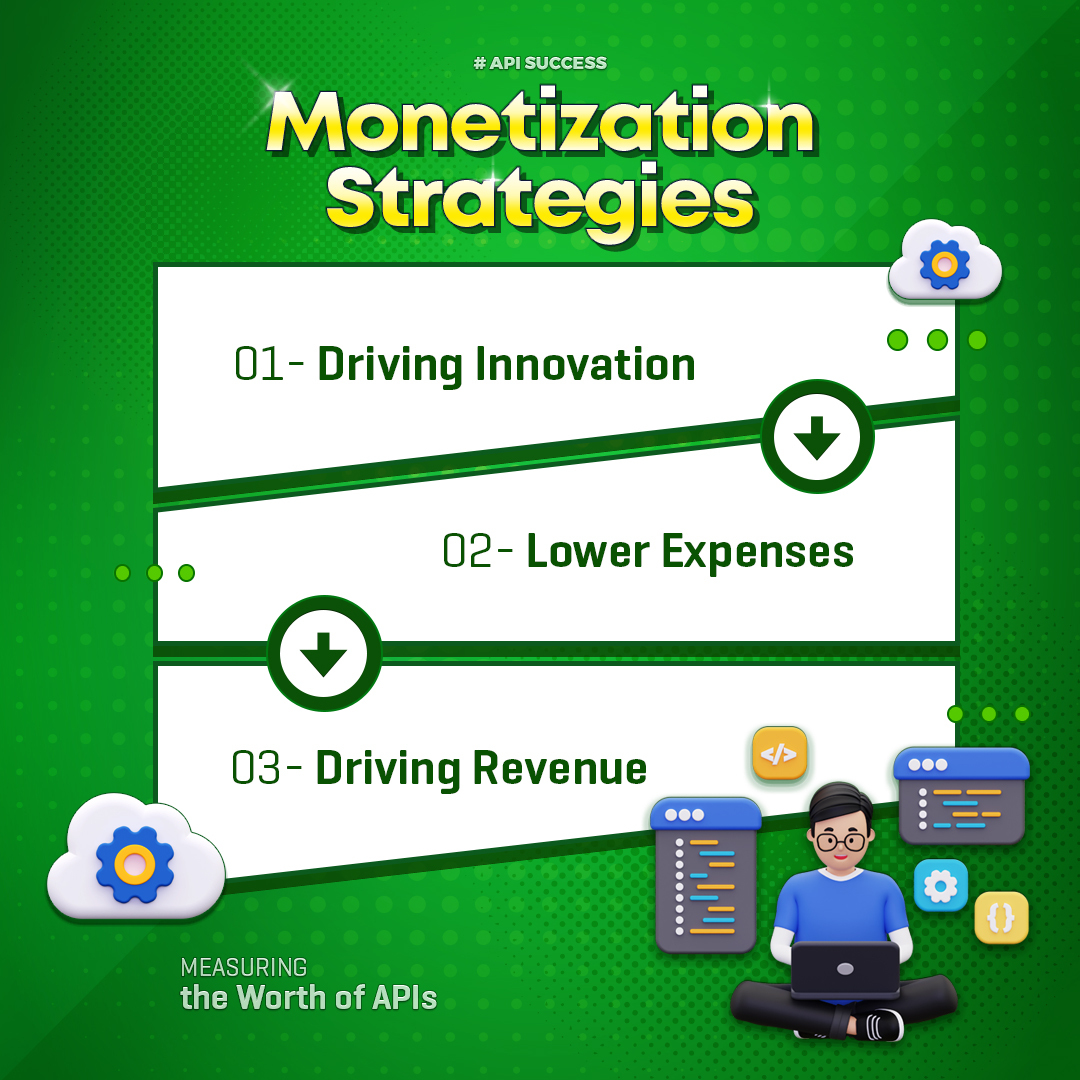 APIs are a powerful tool that can drive revenue, improve business efficiency, and drive innovation.
To unlock the full potential of your APIs, it's important to understand their worth and develop strategies for monetizing them.
Take a Test Drive with our No-Code API Solution.
No-code API solutions such as API AutoFlow accelerate your development lifecycle. Download API AutoFlow today to try it out!

Peter serves as Chief Product Officer at Interactor. He works with Fortune 500 companies and startups to help accelerate API development and integration by adopting no-code technologies.